A San Antonio woman was sentenced to 33 years in prison after her and her husband were accused of sexually abusing their adopted daughter for 15 years.
Laura Castillo pleaded guilty to three counts of aggravated sexual assault Friday after being convicted of subjecting her adopted daughter and niece, Abigail Alvarado, to sexual abuse for over a decade, My San Antonio reported. The sexual assaults, which her husband allegedly took part of, resulted in three children that Laura Castillo raised as Alvarado's "siblings" and not their mother.
Abigail, who is now 28, went to police in 2014 to report the abuse she suffered at the hands of her adoptive parents since she was 9. Years later, Abigail is finally seeing justice served to her abusers.
"I was very emotional for the justice I'm getting," Alvarado said when Laura was sentenced.
Laura's husband, Eusebio Castillo, was also arrested on charges of aggravated sexual assault and awaits trial. Abigail has accused him of molestation, rape, assault and mental and emotional manipulation.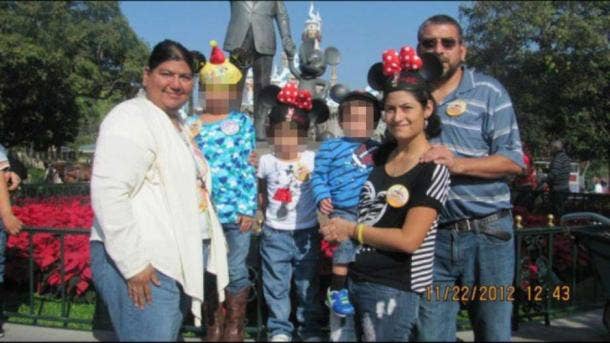 She told mySA that prosecutors believe Eusebio's case will likely go to trial though they are working out a plea deal that would land him in prison for 40 years.
"It's a stressful process," Abigail said. "I knew it was going to take a long time, but with all the evidence against Eusebio, it's still on his terms. We have to wait for him to plead or go to trial."
Abigail was adopted by the Castillos, who are her aunt and uncle, in 1996 and said the sexual abuse began almost immediately, according to the San Antonio Express-News.
Eusebio, previously a sergeant in the U.S. Army, reportedly began molesting her at age 9 and the abuse turned to rape when she was 13. Laura eventually joined in, forcing Abigail to participate in "threesomes" with them.
Abigail said that Laura gave her no choice but to be a "surrogate mother" for her because she was unable to conceive a child with her husband.
"You're going to have this baby. There's no saying no," Laura said, according to Abigail.
She fell pregnant three times, first when she was 17 and in high school. DNA tests show Eusebio is the father of the children who were told Abigail was their older sister.